Hi, this is Terri Bradt, the daughter of Gordon Bradt.† Iím writing this page in the first person, so that I can give a perspective to the inventions of my Dad, Gordon Bradt.† Growing up with Dad gave me an insight into the old truth that necessity is the Mother of Invention.† It was also a lot of fun to have a Dad who came up with such crazy stuff!† But, most of that stuff was a reflection of who he was and what he was into at the time, and it also helped to make me who I am.† So, each patent has a story that I will try to tell from my viewpoint.† Please click on the patent links below to read the stories and view the patents.
<![if !vml]>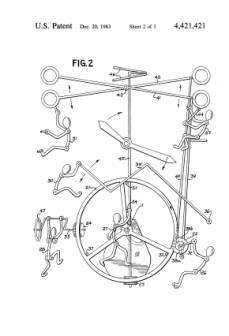 <![endif]>
Each patent image featured in the links below was downloaded from the United States Patent and Trademark Office website at http://www.uspto.gov/patft/index.html.† The patents include both utility and design patents.† The earliest patents are those assigned to Bell & Howell while Dad was working for them and before he formed Kinetico Studios.† All other patents are assigned to Gordon E. Bradt himself.
Filed 1964-1969† Bell & Howell Patents
Filed 1965† Automatic Chord Guitar
Filed 1975† Kinetic Sports Figure Sculpture
Filed 1982† Kinetic Clock Sculpture
Filed 1984† Battery Driven Golf Cart
Filed 1989† Water Clock
Filed 1991† Kinetic Clock Pedestal
Filed 1992† Radio Device
Filed 1998† Fan Blade & Fan Blade Assembly
Filed 1999† Car Top Carrier
Filed 2000† Old Car Chair & Rocking Chair
Gordon Bradt has designed and released a fine art poster featuring his U.S. patents.† See Patent Poster for more information on purchasing his latest creation!