<![if !vml]>

<![endif]>
Home Page
Kinetic Sculpture Clocks
Gordon Bradt & Kinetico Studios
<![if !vml]>

<![endif]>
Kinetico Studios is proud to announce the release of an original giclee fine art poster by Gordon Bradt.  In this poster Gordon Bradt portrays the United States Patents he has been awarded, including the Seven Man Clock, the Tennis Player, contemporary furniture, an automatic chord guitar, a stand-on electric vehicle, and unusual ceiling fans.
<![if !vml]>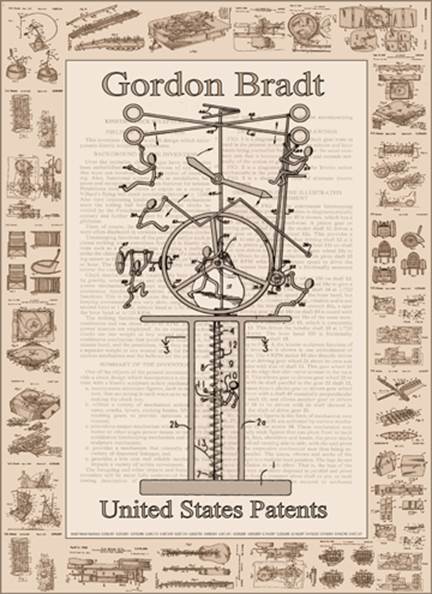 <![endif]>
Released in 2007, this is the first two dimensional design that Kinetico Studios has produced, and it compliments his three dimensional kinetic sculptures which are in collections around the world.  But this beautiful poster seems to have many dimensions, all reflecting the artist, Gordon Bradt.
Gordon Bradt's U.S. patents date back to 1964 and continue through 2000.  We have chronicled his patents on our web page Patents.  Please refer to this web page for the stories behind the patents.  But even without the stories, the patent drawings featured in the poster tell a lot about the artist, Gordon Bradt, the creator of the Six and Seven Man Clocks.
Features of the poster include a border of patent drawings surrounding the patent drawings of the Six Man Clock and the Seven Man Clock Pedestal.  A ghost image behind the clock describes the kinetic clock device as it was originally filed in the U.S. Patent Office in 1982.  Below the image is a list of all the Gordon Bradt patent numbers currently in the U.S. Patent Office.
This museum quality giclee poster is printed on 18"x24" Hahnemuhle fine art photo 100% acid free cotton rag paper with archival Canon inks, right here at Kinetico Studios.  We are proud to be doing the printing in house, in the old tradition of Kinetico Studios.  The image itself is 16"x22" with a one inch white border, suitable for framing.  The poster comes with a Letter of Authenticity signed by Terri Bradt, Vice President and General Manager of Kinetico Studios.
Poster Prices
Signed and Numbered Poster  $125